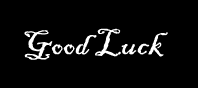 Good luck and destiny are two different concepts altogether. I'd like to touch on this topic and give my readers a better understanding.

It's believed that destiny is pre-written but the reality is much different. Destiny can be shaped by few important factors namely prayers and good luck. These two power tools are gifts of God available with everyone to create and shape one's destiny. I need not talk much about prayers because we know all about prayers and praying so let me just talk about good luck and the power it has to create your desired destiny.

I present to you one of my best free good luck spells that work at a speed of light.

You don't need any ingredients or complicated equipments to cast this luck spell.

Use this good luck spell every day.

Here is the free good luck spell chant.

VEMAZ KAHO ZAHAN AAKAR MAZPAZANA

Say this good luck chant to a count of hundred anytime during the day.

Good luck chants that really work are extremely powerful. Use this luck spell chant with faith and good luck will follow you rather than the other way around. You will be shaping, creating and writing your own destiny in the way you want it. This good luck spell works forever once cast.

Author's note - Morning is the best time to use this good luck chant.

On this page I have spoken about destiny and the tools that are capable of creating and shaping it. Now, you have the power in your hands or shall I say your destiny is in your hands.

Good luck spells are powerful spells and guaranteed to work for you.

Send me a mail if you want some more of my good luck spells and chants. I like to share my work with people who follow me.