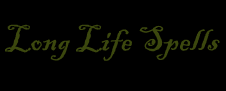 I sincerely want everyone to live as long as possible and enjoy the bounties of life but in reality things are much different than what we hope, wish, desire and want.

In olden days our ancestors lived long healthy lives and premature or sudden demise was something that happened very rarely probably due to unnatural causes.

In this era there are a lot of sicknesses, viruses and diseases that have plagued us. Global warming and other environmental changes are posing a serious threat to the human race.
All of the above mentioned factors in this paragraph translate into a curtailed lifespan and an unhealthy life. Now, let's discuss how to combat all of it in my way.

I am giving away a free long life spell or anti sickness spell that can be and should be used by everyone.

Here is the usage procedure of this free life spell.

Every morning say this long life spell to a count of hundred and then start your day.

ROGAN TODAN JODAN PEHALAN JAAG HASAHA

Before bedtime, say the life spell again to a count of hundred.

All incurable sicknesses, diseases, viruses, infections and disorders will get cured within the coming days. There will not be a single trace of ill health or any sickness left.

Cast this free long life spell daily and prepare yourself to live a long, prosperous and a healthy life.

Send me a mail if you want to know more about this spell.